CBD Edibles Market: Introduction
The latest research report published by Transparency Market Research on the global market for CBD edibles such as Europe, North America, South America, Oceania, East Asia, South Asia, Middle East, and Africa industry analysis and growth opportunity assessment for 2021-2031.
North America holds 52.9% of the CBD edibles market, and the market in the region is projected to be valued at US$ 5 Bn in 2021. The market in North America is estimated to expand at a CAGR of 12.7% to reach US$ 16.56 Bn by 2031.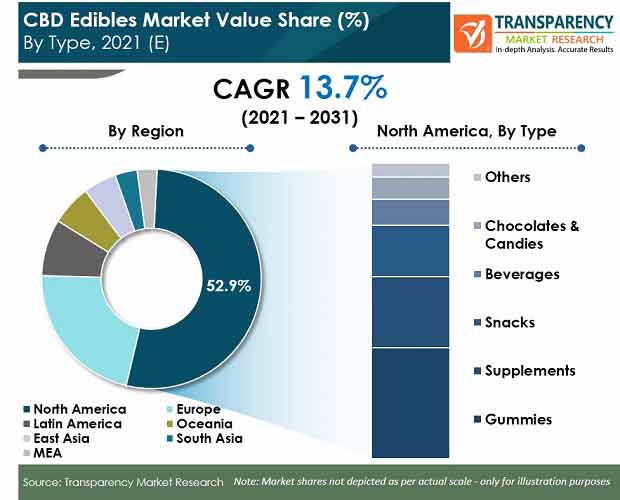 Get Free PDF Brochure of the Report –https://www.transparencymarketresearch.com/sample/sample.php?flag=B&rep_id=78879
Upliftment of Ban on CBD-infused Products Bolstering Sales of CBD Edibles
The CBD edibles market has a geographical constraint, as most nations prohibit the use of cannabis-infused goods. Due to the rising demand for CBD and its associated health advantages, governments approved its use in food items at specific concentration levels.
Europe is presently the world's second-largest market for CBD edibles, while the U.S. leads the industry. Due to the Australian Government's support for CBD usage by legalizing CBD in 2017, it is also among the top three markets for CBD edibles. The legalization has been one of the primary drivers of expansion in the Oceanian segment.
After the Farm Bill went into effect, manufacturers were permitted to utilize CBD in any food products, subject to a limit that was higher than that allowed by the European authorities. Most of the major CBD edibles companies are now based in the U.S., and some of the major companies have partnered with government organizations to improve R&D in the CBD edibles market.
Increased Demand for Psychotropic Low Drugs to Benefit CBD Edibles Market
The vast variety of psychotropic medicines being used in this decade is a direct outcome of developing work-centric lifestyles, as well as personal and professional obstacles. Psychotropic medicines affect a person's behavior, emotion, thinking, and perception, and are thus among the most often prescribed or illegally taken substances in the world. As the products available in the market provided a psychotropic high, there was a need for alternative products.
Despite the fact that CBD is a cannabis component, it does not produce a psychotropic high. It provides customers with a mellow mood boost as well as a sensation of pleasant and aware energy. CBD edibles, with their long-lasting effects, can give relief from minor aches and pains as well as daily stressors. These are best suited for those who want to enjoy the benefits of cannabis without becoming overly psychoactive.
According to the data provided in the National Survey of Drug Use and Health by the Substance Abuse and Mental Health Services Administration (SAMHSA), more than 47 million adults over the age of 18 years reported a mental health condition
 
Make an Enquiry before Buying –https://www.transparencymarketresearch.com/sample/sample.php?flag=EB&rep_id=78879
Increasing Manufacturers Spending on R&D for Medicinal Solutions Fueling Demand for CBD Edibles
CBD oil has been proven to provide therapeutic advantages in the treatment of a variety of ailments, including diabetes, cancer, and a few others. In the past, medical therapy combined with CBD has proved to be useful for patients, and more extensive study on CBD properties is currently underway. CBD oil is being investigated to see whether it can help with anxiety, sadness, acne, and heart disease. It may possibly give a natural option for pain and symptom alleviation for cancer patients.
Cronos Group Inc, Tilray Inc are some of the companies, which operate more than one research lab in different continents for medicinal research work, product development, while also increasing their product portfolio in nutraceuticals. The higher investment by key players in this market has led to market growth and is fueling the sales of CBD edibles at a decent rate.
Untapped Asia Pacific Market to Offer Sales Opportunities to Manufacturers of CBD Edibles
The CBD edibles market growth is most likely to be witnessed in the Asia Pacific. China is one of the world's largest hemp producers; therefore, CBD edibles production in the region has a lot of promise. The market is new and in its early stages, but it has a lot of potential due to a large population of young adults when compared to other regions.
China and India are the most important countries in the Asia Pacific, and the potential for the growth of the CBD edible market is huge due to factors such as the presence of raw materials, developing industrial hub, young adults, etc.
More Trending Reports by Transparency Market Research –
Wine Fining Agent Market-https://www.transparencymarketresearch.com/wine-fining-agent-market.html
Seafood Extracts Market-https://www.transparencymarketresearch.com/seafood-extracts-market.html
Jasmine Extract Market-https://www.transparencymarketresearch.com/jasmine-extract-market.html
Ylang Ylang Extract Market-https://www.transparencymarketresearch.com/ylang-ylang-extract-market.html
Paprika Oleoresin Market-https://www.transparencymarketresearch.com/paprika-oleoresin-market.html
Vegetable Extracts Market-https://www.einpresswire.com/article/576701957/vegetable-extracts-market-is-expected-to-surpass-the-value-of-us-60-9-bn-by-2031
Hesperidin Market-https://www.einpresswire.com/article/577060244/hesperidin-market-set-to-surge-significantly-by-2031
Starch Market- https://www.einpresswire.com/article/577905611/starch-market-to-cross-valuation-of-us-2-7-bn-by-2030
About Us:
Transparency Market Research, a global market research company registered at Wilmington, Delaware, United States, provides custom research and consulting services. The firm scrutinizes factors shaping the dynamics of demand in various markets. The insights and perspectives on the markets evaluate opportunities in various segments. The opportunities in the segments based on source, application, demographics, sales channel, and end-use are analysed, which will determine growth in the markets over the next decade.
Our exclusive blend of quantitative forecasting and trends analysis provides forward-looking insights for thousands of decision-makers, made possible by experienced teams of Analysts, Researchers, and Consultants. The proprietary data sources and various tools & techniques we use always reflect the latest trends and information. With a broad research and analysis capability, Transparency Market Research employs rigorous primary and secondary research techniques in all of its business reports.
Contact
Rohit Bhisey
Transparency Market Research Inc.
CORPORATE HEADQUARTER DOWNTOWN,
1000 N. West Street,
Suite 1200, Wilmington, Delaware 19801 USA
Tel: +1-518-618-1030
USA – Canada Toll Free: 866-552-3453
Email: sales@transparencymarketresearch.com
Website:https://www.transparencymarketresearch.com